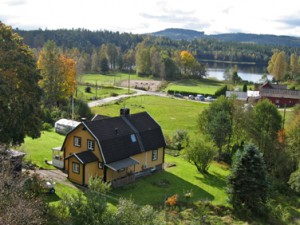 Our home is 261 m2 in 3 plans and it has a large barn with garage.
Ground floor: Hall, kitchen, dining room, livingroom with TV-corner, double sofabed, bathroom with a large shower corner and a washing machine, office and outdoor room with barbecue.
Upper floor: TV-room with sofabed, 4 bedrooms, bathroom with shower and laundry room.
Basement: 1 bedroom, dressingroom, storage rooms and boiler room.
Barn: Workshop, storage rooms and garage.
Equipment: 1 kayak, 1 inflatable canoe, 3 bicycles, lots of fishing equipment and other outdoor equipment. Riding mower.
Garden: Rhubarbs, redcurrants, blackcurrants, elder flowers & berries, lots of mushrooms (chanterelle), wild raspberries etc.
Neighbourhood: Only 150 m from the house there is a lovely very clean lake for swimming and fishing with a small sandy beach, bridges, barbecue and outdoor table/chairs. Some of the neighbours are keeping goats, sheep, cows, horses, chickens, rabbits and bees.
Neighbours: Very nice and helpful